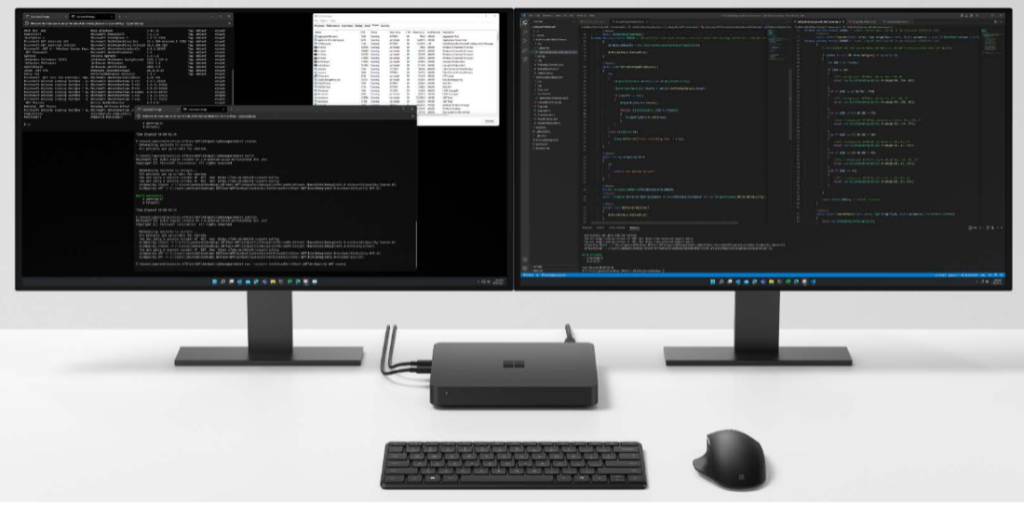 Microsoft Releases Windows Dev Kit 2023 Kit
On October 25, Microsoft launched the first Windows on ARM minicomputer development kit, previously known as Project Volterra, now known as the Windows Dev Kit 2023 kit. The Windows Dev Kit is powered by a Qualcomm Snapdragon 8cx Gen 3 processor with 32GB of RAM and 512GB of SSD storage, and features three USB-A ports, two USB-C ports, and a Mini DP output port for up to two 4K60Hz displays at the same time; the Windows Dev Kit also features an internal neural processing unit (NPU) for hardware acceleration when processing tasks such as AI camera effects. The Windows Dev Kit 2023, which only runs Windows 11, will debut in China, the United States, the United Kingdom, France, Germany, Japan, Canada and Australia for $599.

Yunmi Releases AI Air Conditioner Master and Many Other New Products
On October 25, Yunmi held an autumn AI software conference online. At the conference, we launched new products such as AI Air Conditioner Master, AI All-Weather Air Conditioner Space Pro, Large Screen Refrigerator Super, HomeMap 2.0 and so on. Among them, AI air conditioner Master uses active manganese formaldehyde removal technology, which is officially advertised to remove 99% of formaldehyde within 2 hours. In addition, the Space Pro air conditioner can intelligently manage air quality through the Yunmi App, and also has a key to remove formaldehyde, automatic fresh air, intelligent control of room temperature and other functions. Yunmi also updated HomeMap 2.0, according to the user's high-frequency life scenarios, customized scenarios, each device is presented in an independent card-type interface, and will be related to the unified management of equipment, the whole house environmental data in real time view.
Shutterstock to Sell AI-Created Content in Partnership with OpenAI
On October 25, Shutterstock, the leading paid stock footage library, announced a partnership with OpenAI that will see Shutterstock integrate the popular AI image creation model DALL-E 2 in the coming months, as well as launch a Contributor Fund share program for AI image creators. Notably, Shutterstock has also announced that it will prohibit the sale of AI images generated using non-DALL-E 2 integrations.
App Store updates NFT-related rules
With the official push of iOS 16.1 and iPadOS 16.1, Apple has also updated its review rules for the App Store. In the newly announced review rules, Apple not only requires developers to provide a demo account or demo mode for unlocking full app functionality, but also officially states that apps are allowed to sell NFT and related services, including casting, shelving and circulation, but developers are not allowed to use NFT as a condition for unlocking in-app functionality, nor are they allowed to direct users to use third-party in-app purchase settlement systems in any way.
Apple calls on its global supply chain to decarbonize by 2030
On October 25, Apple launched an initiative calling on its global supply chain to take action to address greenhouse gas emissions and fully decarbonize. apple will assess whether key manufacturing partners are decarbonizing their Apple-related operations, including using 100 percent renewable energy to power their operations, and will require suppliers to report on their progress toward achieving their goals -particularly for Scope 1 and Scope 2 reductions related to Apple production, and Apple will follow up and audit the annual process each year.
In addition, Apple encourages suppliers to address their emissions outside of Apple-related production and to prioritize the use of renewable energy. As part of meeting its 2030 goals, Apple has reduced emissions by 40 percent since 2015, much of which has been achieved through energy efficiency, low-carbon design, carbon neutrality in the company's own operations, and a shift in the supply chain to renewable energy for power. To help suppliers meet their commitments and go even further, Apple also offers a suite of free online learning resources and live training through its Clean Energy Program, and works closely with suppliers and local partners to find effective solutions on renewable energy and carbon removal.
Chrome will no longer support Windows 7
Google's official support documentation, updated on October 26, states that Chrome 110 stable release, expected to be released on February 7, 2023, will officially end support for Windows 7 systems, and older versions of Chrome will continue to run on Windows 7, but will not receive any version updates. To continue updating Chrome, users will need to upgrade their operating system to Windows 10 or later. This coincides with Microsoft's extended support for the systems in question, which will end on January 10, 2023 for Windows 7 ESU, according to a previously announced public plan.