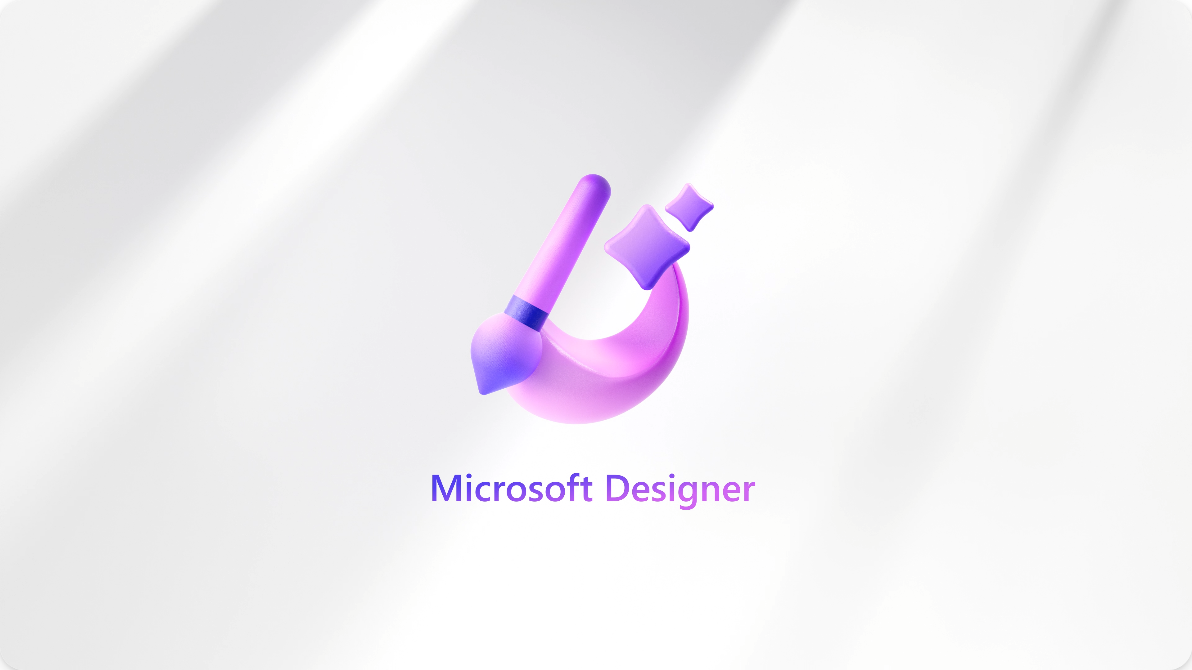 How to make elegant and high-end designs easily and quickly?
And just a few days ago, Microsoft's previously high-profile announcement of AI design software Microsoft Designer finally began internal testing. I was invited to get the qualification for the beta test and had a good experience with this new design software that will join the Office bucket package in the future.
First experience: not many functions, but simple and easy to use
I would like to give a simple and brutal comment on the first impression of Microsoft Designer, which is "Yo, a new ad from the ad film maker".
When you open the Microsoft Designer website, the first thing you see is a link to the application queue and a promotional video for internal testing. This video inherits Microsoft's usual colorful, three-dimensional and dynamic style, and deeply integrates various elements of the "fluid design system" into the design language of the product.
However, a good promotional video does not mean a good experience. As a user, I am most concerned about the actual output effect, after all, Microsoft's image as a big propaganda cheat factory has been deeply rooted in people's hearts. After getting the qualification of internal test, click Sign in in the upper right corner of the webpage to log in your Microsoft account, then you can enter the home page of Microsoft Designer. For the first project, Microsoft Designer will pop up a card similar to a guide, step by step to help you use.
First, we need to enter the design title. The design title here does not refer to the style of the topic, but is similar to the main title in a PPT or poster. At the same time, you can also choose to add a subheading to complete the secondary information such as the speaker, time, etc.
Once you have entered your own design title, we will need to provide some image files. You can choose to upload your own image files or describe the image you want and let the AI automatically help you generate the image and automatically complete the graphic layout design.
Does this look familiar? Yes, if you've used DALL-E before, then you're no stranger to this method of operation. As it happens, Microsoft Designer's image generation tool is based on DALL-E 2. For those of you who haven't used DALL-E, you just need to understand that it is an artificial intelligence program that automatically generates images from text descriptions.
Back in the software, if we choose to use descriptions to generate images, we need to specify in the description what the theme and style of the image is, as well as the perspective of the image, the colors, etc. Or you can just enter some vague words and let the suggestions below help you. Once you have written the description text, click the arrow to the right of the description box and wait a few moments for Microsoft Designer to display the three generated images for us to choose from.
You can choose any of these three images for layout, or you can describe another desired image screen to generate the image.
Once you have found the image you want, you can see several layout styles recommended by Microsoft Designer on the right side. Here you can also adjust the color and size of the theme you want, then select the one you like below and click "Customize design" to enter the custom design interface.
The custom design interface is similar to PPT, where you can modify almost any element in the screen. Simply click on something like an image or text to open the corresponding detailed adjustment screen. At the same time, on the left side of the options bar, Microsoft Designer provides five dimensions for us to adjust the screen.
Templates: a wide variety of templates of different styles and sizes are available here, which can be applied directly to the design by clicking on them.
My media: where you can upload new images, but no longer support the use of DALL-E 2 artificial intelligence to generate them.
Visuals: Add new elements to the design that Microsoft Designer thinks might work for you, including but not limited to illustrations, images, gradient backgrounds, etc.
Text: Add text. Again, a variety of different templates are provided below to choose from.
Styles: Styles and color schemes. You can choose your own templates provided by Microsoft Designer, or you can customize new styles and color schemes based on your needs, such as the theme colors and fonts for your business or app.
The right side of Microsoft Designer offers a "designer" similar to that of PPT, which provides some suggested layout for the elements present in the screen.
In general, Microsoft Designer does not offer many features compared to other professional design software, and is mainly based on existing templates and AI to assist in design. However, the benefits are obvious: for the novice user who does not know much about design, Microsoft Designer has a learning cost of nearly 0, no software installation and can generate many different styles in just a few steps, making it very easy to get started.
Making amazing designs in a flash? It's a bit far away now.
So, can Microsoft Designer actually do what Microsoft says in its tagline, "Make amazing designs in a flash"? Or to put it differently, can it be used to fool bosses and clients, leaving yourself more time to fish?
I believe that after seeing some of the pictures above, the answer is already clear to you: no.
To put it bluntly, the design templates provided by Microsoft Designer are not very impressive compared with other competitors, and can even be described as rudimentary. Microsoft Designer is still a bit far away from being able to produce the same effect as in the promotional video – of course, depending on the theme, image description and purpose, it may have different results. Based on my actual experience, it is far from being able to meet my needs, let alone submit designs to clients.
In addition, in the design style, Microsoft Designer provides mostly modern minimalist style, relatively single. However, considering that most other similar software is also the same, so there is no need to be too critical. After all, it is Microsoft's product, no shortage of money and no shortage of people is their advantage, as long as the later Microsoft Designer can provide enough templates and styles, then the user will naturally leave room for choice will be greatly increased.
But I still think, to cope with some of the company's daily internal meetings or presentations, Microsoft Designer's current functions are still enough.
Contrast with PPT: No, I was wrong about PPT.
As products from the same family, it's hard not to compare Microsoft Designer with the designer in PPT, because after all, their features are so similar, and even their positions in the software are exactly the same.
Since I've done a lot of commercial-grade PPT in the past, I've always felt that the "designer" feature is better than nothing. Therefore, during my experience with Microsoft Designer, I always felt that the templates it provides in Design Inspiration are similar to those in PPT, and they are a pair of "crouching dragons and phoenixes". But after using it, I realized that I need to apologize to PPT.
From my personal aesthetic point of view, I think the layout suggestions provided by PPT are much better than Microsoft Designer and much more usable. Comparing the same image material and text content, the layout provided by PPT Designer allows me to say "Wow, it looks good" after browsing, while Microsoft Designer can only find a template that says "Oh, this is okay" after a long search through various templates and materials.
Due to the short time since its launch, Microsoft Designer's support is not too friendly, while PPT, as one of the go-to working software, is already quite mature in its adaptation for everyone. In Microsoft Designer, no matter what template you change, the text is basically a relatively modern sans-serif font, while PPT can automatically switch between serif and non-serif fonts depending on the style, which is so sweet.
The last thing I need to complain about is that the current version of Microsoft Designer export options are only three: PNG, JPG and PDF — yes, it does not support PPT or PSD export. This means that the subsequent do not think in the PPT or PhotoShop to make changes. Perhaps Microsoft will subsequently bring an update to support both file exports?
Lots of questions, but maybe a big picture for Microsoft.
When it comes to design software, we always unconsciously associate it with work and productivity, and Microsoft Designer is no different.
However, Microsoft Designer is very different from Microsoft's past design software: it doesn't need to be downloaded, installed, or have a built-in app, and we can use it directly from the web. In addition, in the still imperfect design export options, sharing to social media is actually a higher level than exporting to file.
This is exactly the point that Microsoft emphasized during the Microsoft Designer demo at the launch event: its primary position is social sharing. That's the essential difference between it and productivity software or services like Canva and PPT.
So despite its current problems and bugs, we might as well leave the productivity perspective for a while and think differently about the future development of Microsoft Designer.
With the popularity of the Internet, people's aesthetic level has been further improved, but there is still a wide range of possibilities between aesthetic improvement and design ability. It is undeniable that the promotional video of Microsoft Designer has once again confirmed Microsoft's reputation as a "propaganda cheat factory", but for many users who want to make good-looking designs but do not have much professional design knowledge, they often care about the simplicity of operation and ease of social media sharing, rather than how professional the software itself is – they can easily make posters, invitations, and friends in Microsoft Designer. – It's enough that they can easily make great-looking posters, invitations, and friend images in Microsoft Designer.
In a tongue-in-cheek way, perhaps the biggest accolade Microsoft has received for developing Microsoft Designer is the title of "the first design software for young people". In this premise, with a large number of users, if it can take care of some professional design needs, such as exporting the results of the design to PPT or PSD, it is possible to overtake other competitors.
Microsoft Designer is still in beta testing, you can fill in the official website to get the test qualification, or ask for an invitation link from friends who already have the test qualification.