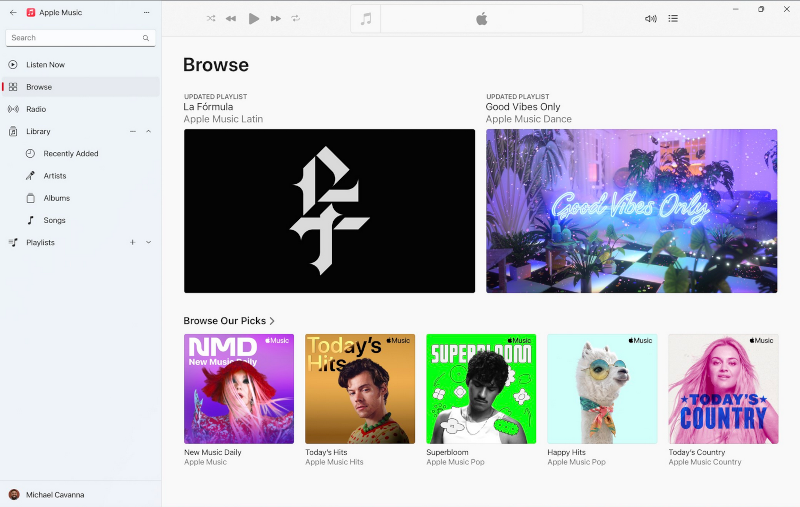 As the music market shifts from digital music purchases to streaming subscription services, the bloated functionality of iTunes has somewhat hampered the development of Apple's streaming services. In macOS, the original function of managing iOS/iPadOS devices in iTunes was given to Visit in macOS, the podcast section was split into a separate podcast app, audiobooks were merged with Apple Books, the video section was split into a separate video app, and the music section, which is the most critical, was replaced by a dedicated music app. Of course, Apple still retains the traditional digital content purchase section (iTunes Store), but you'll need to go to these spun-off apps to make purchases.

The benefits of the split are obvious. On the one hand, the streaming business can be developed separately, for example, with support for lossless streaming and spatial audio in Apple Music, which was completely unimaginable in the iTunes era, and with support for new technologies such as Dolby Atmos and Dolby Vision for video applications. Three years later, the split has laid a solid foundation for the development of Apple's streaming services.
But on Windows, for a variety of reasons, iTunes remains the only choice for iOS/iPadOS users and even users of Apple's various streaming services. For Apple Music users, there is not even a dedicated official client for Windows, so they either continue to use iTunes, the archaic software from the "digital music store era," to listen to streaming music, or use third-party clients – which in fact are often Apple In fact, these third-party clients are often Apple Music web-based shells, which are a long way from the native client app experience.
In October 2022, Microsoft officially announced that official Apple clients such as Apple Music and Apple TV would be available on the Microsoft Store, and on January 12, 2023, Apple finally launched Apple Music and Apple TV on the Microsoft Store with previews of them. On January 12, 2023, Apple finally launched the preview versions of Apple Music and Apple TV on the Microsoft Store, and the countdown to the "retirement" of iTunes for Windows has officially begun.
Apple Music, Apple TV and Apple Device for Windows 11
Although the Apple Music, Apple TV and Apple Device standalone apps are already available on the Microsoft Store, Apple also says that the standalone apps currently available are "previews" and are obviously far less stable than iTunes, which has been around for decades. If you're serious about software stability, it's best not to try it; and you won't be able to launch iTunes after installing the three apps – you'll need to delete them completely if you want to continue using iTunes.
In addition, Apple didn't exactly list these three apps on the Microsoft Store in all regions, but only in the U.S. Microsoft Store, so we need to open Settings in Windows 11, select Time and Language > Language and Region, and choose "United States" in Country or Region to be able to download them on the Microsoft Store. Microsoft Store. And only Windows 11 is supported at this stage, not Windows 10.
Apple Music for Windows 11 experience: close to ideal
Thanks to the modern system UI design provided by WinUI 3, the interface of Apple Music for Windows 11 fits in very well with the Windows 11 system interface, and even the design is in line with Microsoft's own Fluent Design system, which made me think that Microsoft had made the design by itself. In fact, from the interface alone, Apple Music for Windows 11 itself is not very different from the music on macOS, so if you have used the music on macOS, you should be able to get used to it very easily.
Compared to iTunes, which retains the original menu bar, Apple Music for Windows puts the menu entry in the upper left corner of "—". The settings are divided into "General," "Playback," "Restrictions," "Files," and "Advanced." In "General," you can turn on whether to sync your media library, whether to turn on automatic downloads, and whether to always check if downloads are available.
For non-US accounts, you can also check the iTunes Store box in "Show" so that even if you don't have an Apple Music subscription, you can still buy digital music from the iTunes Store – just like you used to buy and download music from iTunes. And, of course, Apple Music for Windows 11 will be available to you. And, of course, Apple Music for Windows 11 also lets you manage your local music library in your iTunes folder just like you did before.
In "Playback", you can adjust playback-related settings, such as whether to set the equalization volume, whether to set the fade-in and fade-out, whether to turn on lossless music, set the quality of streaming and downloading, and so on. If you have video content here, you can also choose the quality of playback and download quality, etc. But unlike the macOS music app, Apple Music for Windows doesn't have spatial audio settings, so it can't support Dolby Atmos and spatial audio at the moment.
The "Restrictions" setting corresponds to the previous "Parental Controls" setting on iTunes; "Files" sets where media folders are, whether to keep music media folders organized, and whether to add to libraries or copy files to music media folders. The "Advanced" feature mainly logs usage data and asks whether to send it to Apple and so on.
The only drawback is that it doesn't support displaying lyrics like the music app on macOS.
Apple TV for Windows 11 experience: barely usable
Compared to the near-ideal of Apple Music for Windows 11, the Apple TV for Windows 11 experience is less than stellar. Previously, if you wanted to watch Apple TV on Windows, you could only do so via the web, and the official standalone app looks like it could take the experience to the next level.
Like Apple Music, we can set up Apple TV with a range of settings that are similar, and the picture quality is basically the same as the video app on macOS, but the only thing that's a little less exciting is the inability to support Dolby Vision and Dolby Atmos, which are included in homemade shows. So for the best Apple TV+ viewing, the ideal choice is still the hardware currently available under the Apple ecosystem.
Apple Devices for Windows 11: Overly rudimentary device management
In addition to the streaming services mentioned above, there is another scenario for using iTunes on Windows: managing iOS/iPadOS devices, such as manually upgrading iOS/iPadOS systems, backing up, managing and syncing media libraries on your device's system, and more. To eliminate iTunes in the future, a tool application dedicated to managing iOS/iPadOS will have to be introduced for this purpose, and that is Apple Devices, which Apple launched specifically for Windows.
But once you start using it, you'll find that the Apple Devices management features are actually quite rudimentary. Although the interface looks like it includes the system update and device data backup features of Device Manager, it also has sub-pages for syncing photos, music, movies, and TV shows. But when you open Apple Music or Apple TV app, you will find that these two apps do not manage the corresponding content in iOS/iPadOS like the music or video apps on macOS, and the only functions you can really use are device system update and data backup. Obviously, the preview version is not perfect as far as device resource management alone is concerned.
In addition, Apple Devices cannot manage file data within apps in iOS/iPadOS, so if you are in the habit of transferring files from your desktop to an app on your iOS/iPadOS device, Apple Devices at this stage will not meet your needs at all.
Conclusion
Although Apple has made good on its promise to launch a standalone Apple Music/Apple TV app for Windows users, which is poised to replace iTunes for Windows, it's easy to see that Apple still has a long way to go before it can say goodbye to iTunes, both in terms of the preview logo and in terms of the specific features it offers. Apple still has a long way to go.
Of course, we can still see Apple's ambition and ideas in these independent applications on the shelves, and it is also Apple's future development trend to provide its own services to users of other platforms across platforms.