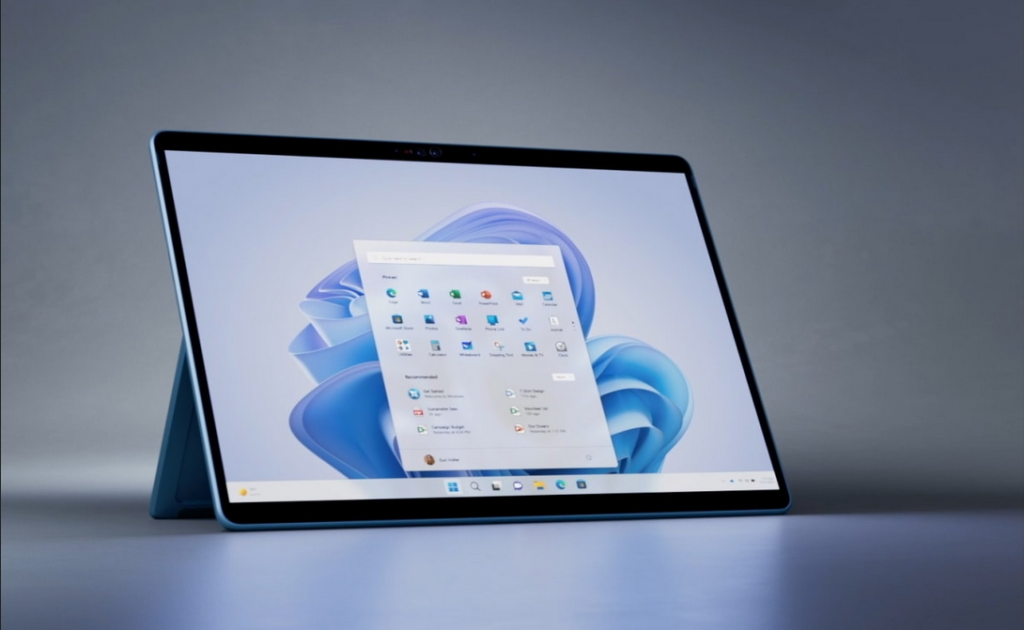 The beauty of the Surface family is that it is Microsoft's own line of computers that run Windows, and Microsoft has full control over its design, which makes each Surface look elegant. Starting with the Surface RT and Surface Pro, the Surface family now includes a line of 2-in-1 tablets, standard notebooks, and desktop all-in-one PCs.
In October 2022, Microsoft updated its Surface family of products to include the latest Surface Pro 9, Surface Laptop 5 and Surface Studio 2+. This article will look at the key features of the different products in the Surface product line and how they fit into the needs of others, to help you make your decision.

Surface's 2-in-1 form factor is what it was when it first appeared, and after nearly a decade of development, the design has matured, but the logic of how it works hasn't changed much. The former is the "kingpin" of Surface, with its iconic touch screen, adjustable stand and keyboard cover, and the latter is the lower-cost alternative to the Surface tablet.
The 2-in-1 form factor is inherently flexible: it can be turned into a traditional laptop with accessories like a keyboard cover, or it can be used as a tablet by removing the keyboard and holding it in your hand. Both Surface Pro and Surface Go are equipped with a gravity accelerometer that allows you to use Windows in both landscape and portrait orientation, and Windows' powerful window management features make it comfortable to use either landscape or portrait – landscape for editing PPT or documents, and portrait for browsing the web, reading books, and more. You can also take notes with the Surface stylus.
If you decide to buy a 2-in-1 Surface but aren't sure which model you want, take a look at the Surface Pro and Surface Go below for more details.
Surface Pro: From x86 to ARM
Surface Pro 9 is the latest addition to the Surface lineup. Surface Pro 9 comes in two versions with different processors: one with Intel i5 or i7 and Wi-Fi only, and the other with Microsoft and Qualcomm's ARM processor Microsoft SQ3 with 5G support.
The differences in technical specifications between the two CPU models of Surface Pro 9 are not significant: both feature a 13-inch 3:2 ratio PixelSense touch screen with a 120Hz refresh rate, 2880 x 1920 resolution, running on Windows 11, the same rear camera with 4K video support and front camera with 1080p resolution, and Wi-Fi 6E support. Microsoft claims that the Surface Pro 9 with ARM processors has a longer battery life of 19 hours, while the Intel version has 15.5 hours.
But perhaps the most important difference is price — the Surface Pro 9 with the SQ3 processor (16GB RAM + 256GB storage) is more expensive than the Intel Core i5 version with the same storage configuration.
If you really want the 5G version of the Surface Pro 9, the question to consider is, is Windows 11 on ARM really ready? According to The Verge's review, Windows 11 on ARM has gone some way to solving many of the awkward issues that the Surface Pro X had when it was first introduced, but it's still a little short on day-to-day use; however, with the expansion of software support, these issues may be resolved a little. If 5G isn't critical to you, perhaps the Surface Pro 9 with Intel processors is the "safer" choice for the Surface Pro line.
Earlier versions of the Surface Pro, including the Surface Pro 8 and Surface Pro 7+ with previous-generation Intel processors and the Surface Pro X with Microsoft SQ2, are also available for sale on Microsoft's website. It's worth noting that the Surface Pro 7+ is the only one of these Surface Pro models that still has a USB-A port.
Surface Go 3: Where does it fit?
The Surface Go 3 has a 10.5-inch, 1920*1280 resolution touchscreen, supports the Surface stylus, and weighs 544 g. The most basic configuration of the Surface Go 3 is a Pentium 6500Y processor, or an optional i3-10100Y processor. Surface Go 3 has a USB-C port, a 3.5mm headphone jack, and a MicroSD card reader; it also supports Wi-Fi 6. Surface Go's product positioning, as a lower-end Surface product, should be mainly in the education market: for example, online classes, light note taking, browsing the Internet for information, writing, etc.
Perhaps before considering the Surface Go, you need to do more than compare it to other Surface series computers; you need to compare it to an iPad or Android tablet. For educational purposes, Surface Go may indeed be better suited to environments that rely heavily on Windows: its Windows 11 and Intel x86 processor make it possible to run a full-featured Office suite, but otherwise it may not have much of an advantage over more basic versions of iPads or Android tablets — both iPads and Android tablets should have no trouble finding better memory and storage read speeds. You should have no trouble finding a better alternative in both iPad and Android tablets, both in terms of memory and storage speed; the price may be better, too.
So unless you're Windows-dependent, value lighter weight, and don't require much in the way of speed, the Surface Go may not be the best choice.
The Surface Laptop is a newer member of the Surface family. In 2021, Microsoft also introduced the Surface Laptop Studio, a more versatile and powerful computer.
In addition to the Surface Laptop Studio, the Surface Laptop and Laptop Go are both notebooks that are likely to be more suitable for office scenarios. The 3:2 signature screen ratio also means a larger display area. However, the shortcoming is that the Surface series of laptops are always a bit poor in terms of external interfaces, which also makes this series in response to the need to connect multiple peripherals in the scenario is slightly weak.
Surface Laptop
Like its predecessor, Surface Laptop 5 is available in 13.5-inch and 15-inch versions. The classic wedge design, all-aluminum body (the 13.5-inch is also available with an Alcantara fiber C-side), 3:2 ratio HD touchscreen, and comfortable keyboard and trackpad make the Surface Laptop even more appealing. 13.5-inch and 15-inch Surface Laptop are identical in terms of ports: both have a USB-C port with Thunderbolt 4/USB4, a USB-A port and 3.5mm headphone jack, and a Surface Connect port for charging. Both notebooks also support Windows Hello facial recognition sign-in.
The 13.5-inch is available with the 12th generation Intel Core i5-1235U and i7-1255U processors; the 15-inch is only available with the i7-1255U. Neither laptop has discrete graphics, with Intel Iris Xe graphics.
The difference, however, is that the Surface Laptop 5 is powered only by 12th generation Intel Core processors, unlike the previous generation, which had AMD processors as an option; the previous generation Surface Laptop 4 with AMD processors had better battery life and price performance than the Intel version.
So as you can imagine, the price of this generation of Surface Laptop 5 is a bit high.
Taking into account the Surface Laptop's configuration and price, this laptop is more suitable for students who don't have much demand for handwriting, drawing, etc., and office workers who deal with more text, PPT or forms; if you buy it to do design, editing video, etc., there may be some gaps in performance. If you buy this laptop, you may be more interested in its thin and light design, comfortable keyboard, good Windows compatibility, and excellent screen performance than its performance.
In addition, the Surface Laptop 4 is still available on Microsoft's website, with only some models still in stock (mostly the AMD processor version).
Surface Laptop Go
Similar to the Surface Go, the Surface Laptop Go is the lower end of the Surface Laptop line, with a smaller size and lower configuration; it's also almost half the price.
I bought a refurbished Surface Laptop Go and used it as my workhorse for more than six months, see this article for more details.
The latest Surface Laptop Go 2 largely retains the design of its predecessor, with a 3:2 12.4-inch 1536*1024 resolution display that isn't too sharp, but that size has always been one of my favorite features of it; the processor has been updated to an 11th generation Intel Core i5-1135G7, with Wi-Fi 6 support and fingerprint unlock.
Compared to its predecessor, the Surface Laptop Go 2 seems to be a bit more accurately positioned in terms of price. Overall, if your needs are very light (such as just surfing the web, occasionally working on documents, writing, doing PPT, etc.), it's actually a pretty good experience considering it weighs less than 1.2kg. To be honest, I'd probably rather take this computer to a coffee shop than an iPad Pro: the flexibility of Windows speaks for itself, and the comfortable keyboard and responsive trackpad are both helpful when writing. It's also a good computer for just a few Chrome tabs.
FYI: If you want to completely get rid of the bloated apps, you can use UninstallService, which is the go-to app removal tool for everyone using desktop computers.
Surface Laptop Studio
The new Surface Laptop is clearly aimed at a more specialized market segment — with performance and versatility as its selling points, the Surface Laptop Studio has an integrated screen and stand that can be used not only as a notebook, but also as a flat surface. The Surface Laptop Studio is powered by a standard 11-generation Intel Core i5 or i7 H35 processor, and the i7 model is paired with GeForce RTX 3050Ti discrete graphics, making it a better graphics performer than any other Surface model.
The Surface Laptop Studio uses a 14.4-inch 2400*1600 resolution 120Hz high-brush screen, making it a little smoother to use the Surface stylus; it even comes with the ability to store the stylus underneath the keyboard. The higher performance means a thicker, heavier body and less long battery life, especially if you use it for "heavy work".
Surface Studio
The Surface Studio is the only Surface that comes in an all-in-one form factor. The Surface Studio 2+ is the latest addition to the series, featuring an 11th generation Intel Core i7-11370H processor, NVIDIA GeForce RTX 3060 mobile graphics, 32GB of DDR4 memory, and a 1TB SSD hard drive.
A 28-inch touchscreen with a resolution of 4500 * 3200 is also a signature feature of the Surface Studio; it also comes with a relatively large number of ports, including three USB4/Thunderbolt 4 ports, two USB-A ports and a Gigabit LAN port.
Perhaps the price seems a bit too high for this configuration; but perhaps the more valuable part of the Surface Studio line is its design. If you need a powerful desktop computer that you can use directly for drawing, etc., perhaps the Surface Studio is a good choice.
Refurbished Surface
If you love the elegant design of the Surface series as much as I do, but are frustrated by its poor price/performance ratio, perhaps buying a used or refurbished version is a better option. I bought a refurbished version of my Surface Laptop Go, and it doesn't feel particularly different except for the very old operating system, which took me half a day to upgrade.
Microsoft's certified refurbished Surface is a good buy, but it's generally harder to get the latest Surface models, like the Surface Laptop 4, Surface Pro 7+, and so on, that are currently available online. But considering that the Surface itself doesn't look too different from generation to generation, and that updating the processor won't make a huge difference in performance between the two generations, perhaps a refurbished Surface could be a good choice to get started.
Surface + Windows is an ecosystem that Microsoft has been building, so there is added value in all of its products – which is probably why the Surface series continues to be so popular with users, even though the price may not be great. – This is probably why the Surface series continues to be loved by many users, even though it may not have a huge price advantage.
It's fair to say that Surface has not improved its products to suit a wider range of needs, but has focused on a few areas such as mobile working, word processing, graphic design, etc., which has also prevented it from becoming an 'arcade'. This article is not a "sales pitch", but I hope to help you sort out the parameters, performance and price of the Surface series in a relatively objective way, and I hope that you will know whether Surface is suitable for you and which Surface is more suitable for you after reading this article.